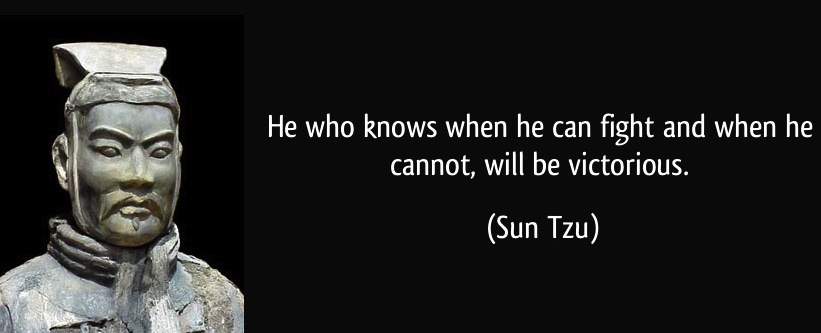 I am working to finish up my 20th Anniversary revision of The Art of 'Ware — though I just today found out about yet another translation that I need/want to consider — but I thought it worth posting here a portion of the introduction to the updated and revised version.
Here are a few extracts from that introduction:
For example, consider the following relatively simple passage as found in Chapter 7 of Suntzu pingfa:
Original Chinese:
稤 郷 分 眾
luè xiāng fēn zhòng
(plunder/loot/pillage) (countryside/village) (divide/separate/distribute)  (crowd)
[from zhongwen.com/bingfa.htm, chapter 7, 3rd block, 5th line, characters 5-8 from the left]
Translations:
Divide your troops to plunder the villages. [Gagliardi]
When you plunder the countryside, divide the wealth among your troops. [Sonshi]
In plundering the countryside, divide up your numbers. [Ames]
Invade a countryside and rule the people. [Huang]
When plundering the countryside, divide the multitude. [Denma]
When you plunder a district, divide the wealth among your troops. [Sawyer]
When plundering villages, divide the troops. [Zieger]
When pillaging villages, divide the spoils among the masses. [Mair]
I go on in my introduction to note:
Eight translators came up with at least three different meanings for this single four-character maxim. The closest to a majority translation is the idea of dividing up your troops to plunder the countryside, presumably to accomplish it more quickly. But three of the authors believe the maxim talks about spreading the looted wealth among the troops (or, at least "the masses"), presumably to keep them happy.  The Denma Group tries to have it both ways; their actual translation ("divide the multitude") is ambiguous, while their own commentary on the maxim says, "Disperse your troops and distribute the goods among them." The immediate context where the maxim appears mostly favors the "divide the troops" translation, since it's talking about terrain and positioning — but this same chapter has a lot of focus on supplies and logistics and the impact of a lack thereof, so there is a strong argument for the "share the wealth" translation.
What this means for The Art of 'Ware is that I first have to settle on what I think is a meaningful maxim in the context of Suntzu pingfa, and then come up with how that might apply to developing and marketing technology.
Webster is Principal and Founder at at Bruce F. Webster & Associates, as well as an Adjunct Professor for the BYU Computer Science Department. He works with organizations to help them with troubled or failed information technology (IT) projects. He has also worked in several dozen legal cases as a consultant and as a testifying expert, both in the United States and Japan. He can be reached at 303.502.4141 or at bwebster@bfwa.com.