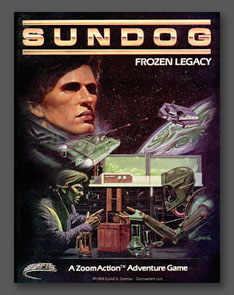 Wayne Holder, founder of FTL Games and co-designer of Sundog: Frozen Legacy, is seriously contemplating bringing Sundog back to modern platforms. But he needs to get a sense of the level of interest for such a game. Drop me a line here and let me know:
if you are interested in seeing Sundog available again
what platform(s) you would like to see it on
if you would like to be added to a mailing list for news of Sundog
In the meantime, I'll be contacting those who have sent me e-mails in the past with the same questions. Look forward to hearing from you.
UPDATE [09/12/13]: Wayne has actually done work on Sundog, but I don't know the current status. Feel free to continue to send feedback.  ..bruce..
Webster is Principal and Founder at at Bruce F. Webster & Associates, as well as an Adjunct Professor for the BYU Computer Science Department. He works with organizations to help them with troubled or failed information technology (IT) projects. He has also worked in several dozen legal cases as a consultant and as a testifying expert, both in the United States and Japan. He can be reached at 303.502.4141 or at bwebster@bfwa.com.