[UPDATE: I received a response from Martindale-Hubbell in the comment section to this post.]
I received an interesting e-mail today, with the following paragraph:
Please accept our formal congratulations on the high achievement represented by this Peer Review Rating. You, Bruce Webster, are one of a select group of attorneys to have achieved this level of excellence and you deserve to be recognized.
This offer — to sell me a plaque signifying my "Martindale-Hubbell Peer Review" rating — comes as something of a surprise, since (for starters) I'm not a lawyer nor have ever attended law school.
I went to the indicated web site — mhur.com — typed in my "ISLN" (an identification number), and sure enough was presented with several styles of plaques that I could order, with the name "Bruce Webster" on them. Furthermore, according to this site, I was not only "Peer Review" rated, I had the highest possible rating ("AV", as opposed to "BV" or "CV"):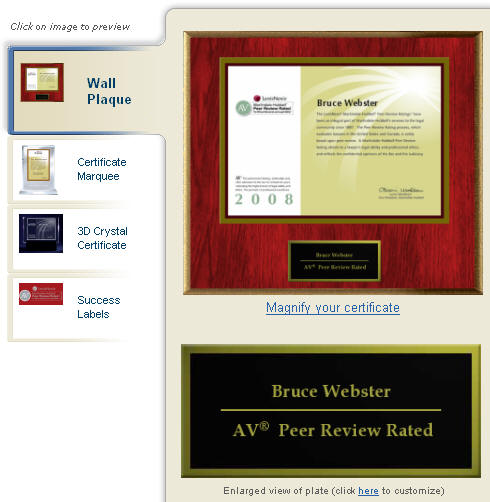 Here's what the martindale.com web site has to say about this rating:
AV® Peer Review Rating — An AV® certification mark is a significant rating accomplishment – a testament to the fact that a lawyer's peers rank him or her at the highest level of professional excellence. A lawyer must be admitted to the bar for 10 years or more to receive an AV® rating.
According to the mhur.com web site, I received this rating on October 7, 2007, or about seven months ago.
I'm familiar with Martindale-Hubbell (now owned by Lexis-Nexis), since I have often used their "Lawyer Locator" feature to track down lawyers I know who have changed firms. And some poking around on the martindale.com website does turn up a page discussing the Martindale-Hubbell Peer Review rating and even confirms that mhur.com is, in fact, the only authorized seller of the corresponding award plaques (click on the "Acknowledgments" tab").
I then went to the Martindale-Hubbell "Lawyer Locator" and did a search on my own name, which turned up three lawyers with the name "Bruce Webster" (all with different middle initials than I have), none of whom live in my state and — I presume — none of whom have my e-mail address.
Being a software engineer, I wanted to see this e-mail was meant for one of those three lawyers. The mhur.com front page gives you the option of either entering your ISLN (which was in the e-mail I received) or of looking up your ISLN by entering last name, first name, city and state. I used that second option with the information that I had gathered from the Lawyer Locator about the three "Bruce Webster" lawyers — and got a hit. Two name/state combinations yielded nothing, but the third was not only a hit, it came up with the same ISLN from my e-mail.
Curiously, though, the M-H Lawyer Locator had no information on this particular lawyer other than his city and state location — which raises anew the question of just how this "AV" rating was awarded. I attempted several other means of locating this particular "Bruce Webster" in that city and state, but with no real luck.
I am half-tempted to buy the plaque, but the price ($179) seems a bit steep for a gag that few would ever see or understand. Instead, I'll forward the e-mail on to the relevant parties at mhur.com and martindale.com (along with a link to this post).
But it was a nice thought. ..bruce..
Webster is Principal and Founder at at Bruce F. Webster & Associates, as well as an Adjunct Professor for the BYU Computer Science Department. He works with organizations to help them with troubled or failed information technology (IT) projects. He has also worked in several dozen legal cases as a consultant and as a testifying expert, both in the United States and Japan. He can be reached at 303.502.4141 or at bwebster@bfwa.com.